Our Mission:
Support the Dulles Airport Community by giving back 100% of funds raised by the Committee for Dulles Community Outreach (CFDCO) in the form of scholarships to graduating high school seniors who work/volunteer or have a parent/guardian who work/volunteer within Dulles Airport's perimeter. CFDCO also provides grants to local organizations that support the airport and its passengers. (Click here to apply for a scholarship) 
Backgound:
The CFDCO, the charitable arm of the Committee for Dulles, was formed collaboratively with the Washington Airports Task Force in 2012 to honor the legacy of Dave Edwards, a CFD past president who was deeply committed to supporting the Dulles Airport Community.
How We Raise Funds:
The volunteer-run 501 (c)(3) committee raises funds throughout the year through a number of activities, including raffles, the Dulles Day 5k/10k run, the CFD's golf tournament, and contributions from supporting individuals, organizations, and corporations. 
To date, the Committee has awarded:
222 scholarships totaling $375,000 to graduating high school seniors who work/volunteer or have parents who works/volunteers within the Dulles Airport's perimeter.

$59,000 in grants to local organizations that support the airport and its passengers, including travelers aid operations, the interfaith chapel, and a local women's shelter.
Committee Officers:
President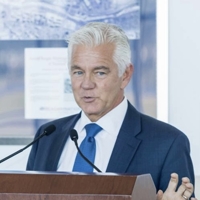 Mark Treadaway joined the Washington Airports Task Force (WATF) in 2022 as Vice President and Chief Operating Officer.  He comes to the WATF with over 35 years of senior level executive experience in business marketing and management.  Mark most recently had a 25-year career at the Metropolitan Washington Airports Authority where he served in a number of roles as VP of Business Outreach, VP of Air Service Planning and Development, and acting VP of Communications.  He is a graduate of the University of Texas with a BA in Business Administration and an MBA from the American Graduate School of International Management, Thunderbird Campus, Phoenix, AZ.  His career began at various advertising agencies and at Apple Computer.   He was a former Board member of the Washington DC Convention and Tourism corporation, former Chairman of the Board for the Animal Welfare League of Arlington, former Virginia Tech Hospitality and Tourism Management Board and has served on various committees of the American Association of Airports Executives (AAAE) and Airports Council International (ACI). Mark is a member of the Committee for Dulles Board of Directors.   
Vice President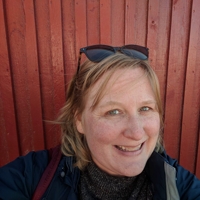 Holly Williamson works in the Communications office at the National Air and Space Museum and is based at the Steven F. Udvar-Hazy Center. She has been with the Museum since 2012 and worked in another Smithsonian Unit from 2004-2012.  Holly wears many hats, including tourism and local business outreach/networking, advertising/marketing, and data analytics. She is very supportive of the Community Outreach Committee's work, as 100% of the funds raised by the CFDCO are returned directly to the Dulles Community. An avid traveler, she is always looking forward to her next trip.
Secretary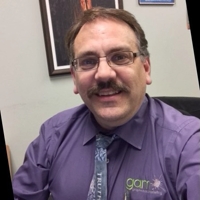 Stephen Grant is the Director of business development for GAM graphics and marketing, a 46-year-old family-run business started by Stephen's father. Headquartered in Sterling, GAM specializes in digital printing, marketing, advertising, and public relations services – all under one roof.  Stephen gives his personalized attention to every customer too ensure a quality result every time. Stephen has been with the Committee for Dulles for over 10 years. He is a member of the Committee for Dulles Board of Directors, and currently serves as its Treasurer and Chair of its Communications Committee. He also serves on both the Programs Committee and on the CFD Community Outreach Committee which is the charitable arm of the Committee for Dulles.
Treasurer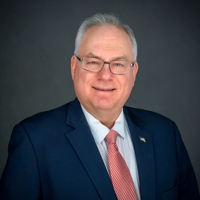 Scott K. York serves as the Committee for Dulles (CFD) Executive Director. He joined CFD in 2019 as a member of the Board of Directors. Scott was appointed as Interim Executive Director in March of 2020, then appointed Executive Director in September of 2020. Prior to January 2016, he had dedicated the last twenty four years to public service, serving on the Loudoun County Board of Supervisors for twenty years, the last sixteen those years as its Chairman. He also served for four years as the Sterling District Planning Commissioner. Under his leadership as Chairman, Loudoun County transformed into a premier location to live and work, become one of America's economic development success stories. Scott was recognized for his years of service from the Metropolitan Washington Council of Government by awarding him with the 2015 Elizabeth & David Scull Metropolitan Service Award. In March of 2022, he was awarded the David A. Edwards Community Service Award by CFD for his years of community service.
Additional Board Directors
Larry Fitgerald
Georgia Graves
Mary Gayle Holden
Rich McCary
Leo Titus
Carol Welti